Filming in Budapest (III)
I know I flogged the horse to its death
a while back
but I think this is going to be a neverending occasional series of posts. Right now
Spielberg's in Hungary
shooting his next film,
"Munich"
about the
massacre at the 1972 Olympics
. So when I saw preparation for filming at Opera I had to write again.
Read more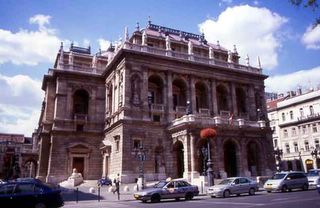 Filming around Opera is not uncommon but there are sure signs of big money in this operation. All the bollards in the area have been ripped out of the pavement. I saw some road and building signs in French resting against a wall and one of the crew confirmed that they're turning the whole street into a little bit of France but he wouldn't go further than that.

Could it be the dramatic scene where the Israeli secret service take out the big bad guy?

From the Daily Telegraph ... The film, with Eric Bana as the lead Israeli assassin, is expected to feature the killing of the Palestinian Mohammad Hamshiri, who answered his phone in Paris to fall victim to a radio-detonated bomb under his desk, and the death of Mohammad Boudia, the director of operations for Black September, in a car bomb explosion.

This is all speculation and heresay of course, if you hang around the Opera house today you may get a sneek peek of the stars or even the mighty Spielberg himself.

Note: Photos of the scene will appear later in the day when I can get them off my phone.