Opera - It 'aint begun till the fat lady hands over the tickets
This will sound like a rant, probably because it is.

My parents are coming into town in June. They love it here and are bringing a couple of their friends to see it for the first time. They'd like to go to the opera to see, well, an opera. Preferably one they've heard about. I've tried to buy opera tickets several times before on their previous visits. Each time ending up with crappy tickets, each time vowing to plan ahead, buy early and get seats that cost more than 1,000ft.

I learnt in March that they were coming over in June. I checked the Opera website and saw that Madame Butterfly / Pillangoasszony is playing. Even I've heard of that one, so I tried to buy tickets. Impossible they said, tickets for the month are only available at the beginning of the month before, so I'd have to wait until May to purchase. I was a bit sceptical as the last time I bought (at the beginning of the previous month) the nice man behind the desk told me that most of the tickets had been sold months in advance. Anyway, I waited a few weeks, called the ticket office and was told again that I could only buy from the beginning of May.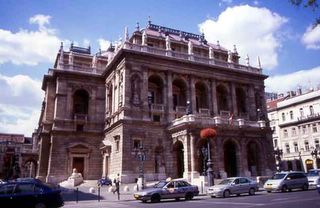 Budapest Opera House

Roll around May 2nd (May 1st being a Sunday and national holiday all in one) and I check online to see that I can now buy tickets, there's over a 100 available and they're in good places. Great! But it won't allow me to book online so I pop to the ticket office. I'm there in the actual opera house about 20 mins after they've opened. When I'm served, the lady tells me that there are just a handful of tickets left and they're all in the gods. I argue that the website tells me of lots of good places but she doesn't know anything about that. I bite the bullet and buy some crap seats. I'll try to get some good seats from somewhere else, and maybe give / throw these ones away. When I ask the lady how I can get good seats she says that they're all sold months in advance but not to individuals. Then she picks up the phone so perhaps I'll never find out how to get good tickets at the opera.

My conversation with the lady of the tickets was in Hungarian, but I'm pretty sure that we both fully understood each other.

So my question is, "How can you get decent tickets for the opera?"
Turns out that the "online reservation" feature from the ticket website was turned off. As I watched the number of available tickets go lower and lower, they had forgotten to switch on the feature for the beginning of the month. They switched it on and I booked the last decent 4 tickets (I hope. I still have to pick them up).

Consipiracy? Probably not, but hey, it's got to be easier than this.